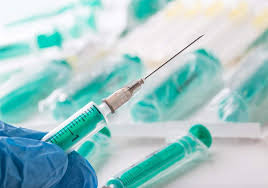 WHO Send Directives For Composition Of 2019–2020 Flu Vaccine
Last Thursday, the World Health Organization has issued new composition for treating influenza injections for the 2019–2020 seasonal flu in Northern Hemisphere. The directive was issued by an advisory board of WHO in a meeting in Beijing. The meeting was sponsored by the National Institute for Viral Disease and Prevention, a subsidiary of the Chinese Center for Disease Control and Prevention. H1N1, influenza B strain and H3N2 are the infections which dominate the northern hemisphere of the globe. Majority of cases seen this year are of minor H1N1 variety.
The WHO board suggested that the 2019-2020 vaccine for flu will cover H1N1 along with two other influenza B virus. The vaccine will also cover the H3N2 and its specific subtype will get announced in March. As per the WHO's statement, taking consideration on genetically and antigenic diverse A-H3N2 viruses, recommendation for A (H3N2) has been postponed. WHO used to convince the advisors in the month of February and September to suggest virus to insertion in vaccines for the next flu season. Southern and northern hemisphere carries different strains of flu and WHO takes a separate meeting for both regions.
The recommendation raised by WHO are considered by National Vaccine Regulatory agencies. Pharmaceutical companies will develop the vaccines. The current season contains the strains from H1N1, H3N2, Influenza-A, and Influenza –B. The vaccine which treats four flu's in one shot is called quadrivalent vaccine.
Till now the season has been mild because of the mild strains of flu's and its vaccines. CDC said in its last week's reported that the flu vaccine effects were of around 47% whereas last year vaccine to flu effectiveness was of 36%. 60% of effectiveness is considered a good number. Dr. William Schanffner from Vanderbilt University who is also serving as the Medical Director of the National Foundation for Infectious Diseases said that the main reason behind the flu vaccine is to resist the complications. Milder H1N1 and another flu point towards the least complicated conditions which might not lead to hospitals. Dr. Schanffner added in his interview with NBC news, a flu vaccine which matches the rhythm of the virus can control complications followed by deaths.