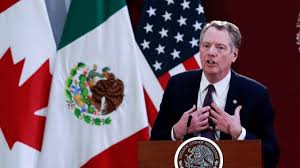 USMCA Trade Deal Is A Win For America And American Workers
Workers across America will benefit by the revised USMCA says Richard Neal, the Chairman of House Ways and Means Committee.
Neal has been leading his party while negotiating with the Trump administration regarding the provisions for the new agreement. Terms of trade have been modernized in North American and the surrounding countries through the deal.
Robert Lighthizer, who was the chief negotiator for the Trump administration says, "It is a historic agreement." It is expected to generate thousands of jobs. The trade agreement will improve trade relationships with Canada & Mexico and pull up the sliding economy, as exports will increase, job opportunities will improve, and thereby wages will increase.
However, the bill can be ratified by the House by the end of the year. The trade conflicts faced across the globe is causing uncertainty for farmers and businesses, and the bill may get ratified.
For now, the impeachment against the president and the elections next year are drawing more attention.
President Trump says that the USMCA is good for manufacturers, farmers, ranchers, and labor unions. This is possible only through support from the Democratic leaders, states the president in a tweet on Tuesday.
Mike Pence, the Vice President, has stated that USMCA will put the Americans, their jobs and the workers first, which is what President Trump had promised earlier. By creating a free trade deal, the GDP of the economy will improve and new market opportunities will be available to farmers and manufacturers.
The Democrats have made various changes to the original USMCA agreement. Complying with labor standards and strategic mechanisms to address labor disputes are some changes made to the USMCA deal. Methods to monitor the maintenance of environmental standards by countries have been given top priority through the USMCA agreement.
It is expected that the agreement will be signed by the three countries, the U.S., Mexico, and Canada together soon.