Designing a room is completely different from designing an office space. Designing an office space needs a proper understanding of the environment and to apply the best interior design practice to create a cozy and inspiring workspace. Changing an office décor can seem like a daunting task that can be easily overlooked as there are plenty of things to consider, keeping in mind the current office design trends. There are several options available that can help you sort some essential stuff to make your office look more appealing. Sometimes a great office design could inspire the employees to work better, and sometimes a dull design of an office might affect the environment to work. And also, buying it from the right place is equally important. So with that in mind, here are some inspiring interior design and decoration ideas about 2019 office design trends: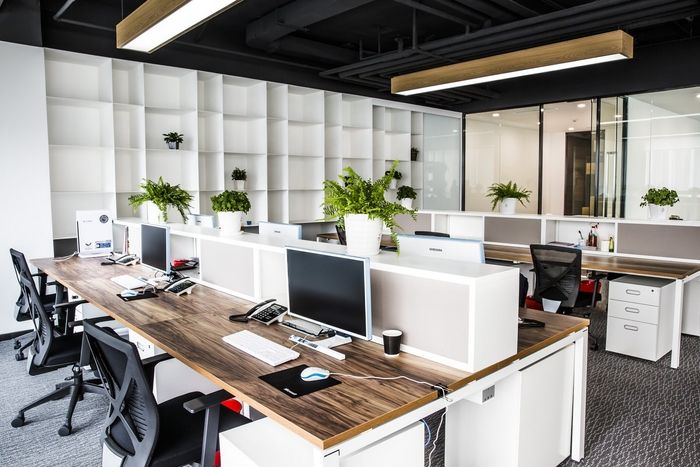 Natural light
This is one of the great elements of 2019 office design trends. You may know that the natural light is the best kind of light to work with and no doubt it will help you to keep your office spirits up. Basically, the natural light can provide you better productivity along with an enjoyable working environment.
Sunlight is extremely important to keep your spirits high. In that case, you open up your workspace by taking advantage of the largest windows possible. You can make use of stylish mirrors which will also bring in and reflect the natural sunlight and keep your office spirits high. For the evening/night part, you can add some cool, yet inspiring, neon signs to light up the work environment. For this, you can go through a range of signs and designs by Neon Mama and make your workplace perfect.
Use plants abundantly in your office
Plants, in general, let in oxygen and keep your office space airier. Moreover, plants also beautify your office space by adding natural beauty to your surroundings. You can add artificial plants too if you don't want to use natural ones. These will too bring in a great design idea for your office decor. There are numerous benefits to use plants in your office decoration. Plants will help you to reduce stress, and it will increase productivity.
Use built-in shelving units
One of the ways you can design a stylish office space is to install a wall of built-in shelving. These shelves help to keep you organized and set up a friendly office environment.
Utilize your space properly
If you have a small office it is imperative to use your resources in a proper manner. You can be built ground up shelving and decorate with artifacts and books. Design a beautiful desk to complement your design.
Your personal items can be a motivation
Your home office can be a particular form of inspiration for you if you use your personal belongings to design your office space. You can hang pictures, place memorabilia, or decorate with your favorite colors to create a spirited environment which in turn would increase productivity.
Use your furniture judiciously
If you want a home-like environment in the office and want more than a high level of comfort, you should install proper furniture for your comfort. Interior designers also give priority to their ideas and make a design that is more comfortable with a homely environment. Basically, it avoids the minimally designed spaces and tries to make the sense which is more inviting and more comfortable. You can use high-backed chairs and comfy sofas to complete your looks. If you're looking for suitable furniture for your office, you'll be pleased to know that there are plenty of online outlets for you to browse the products of. For instance, check out Office Monster and their wide range of furniture to suit all budgets here – https://www.officemonster.co.uk/office-furniture.
Make room for your client
You can create a separate room for your clients or see to it that the coffee machines are placed properly. Your visitor's rooms should have proper accented sofas and chairs and should contain your personal touch. This is sure to create a positive vibe for you.  It is very much important to keep the meeting areas comfortable because this is a space in your office where you might hash out an important deal. In that case, you may use some comfortable sofas, plants, rugs, inviting wall décor and etc. because it will make your office to look more informal and relaxing.
Themed conference room
There are some people who think the conference room as dull and uninspiring space but this is not so. The conference room is a space for your office where the people meet and discuss their work and their future plans. In that case, you need to make it cozy with some playful themed office décor which will brighten up the conference room and will turn the office room into one of the great enjoyable space. You can choose plenty of different themes for the office conference room and pick the right one according to your own choice and your demand from that room.
Cityscapes are one of the great ideas for a theme. In that case, set up some exotic destinations and different natural wonders there in order to make it more attractive. But according to some great interior designers, to stick with any particular design can be subtle. Instead of this use a mix of various design styles for a more layered look. Because if you choose a theme more seriously to make memorable, then it will age first what is not worth the time or investment.
Organic furnishing for your office
Nowadays, the concept of interior designs in Bangalore is completely changed. People like something organic in their room. In that case, this is very much needed to create a combination of natural materials and outdoor inspiration with the upcycled elements. In that case, you may use any trees which are growing in atriums or any bridges over streams running through the reception area or may be any ecospheres.
Use Natural colors and metals
You can use natural colors like browns, greens, deep oranges, warm neutrals to enhance the look and feel of your office space. You can also try and use furniture purchased from thrift stores. This furniture's have a rustic and authentic feeling about them. Use natural stones and metals too for enhancing the beauty of your office. Keep the spirit alive with inspiring arts to give an exotic look of your office.
Your office is a place where you spend a considerable amount of your time. Your office should reflect your personality and passion. These design tips for your office will surely give you solutions to design your office space with style and function.