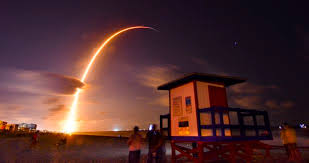 SpaceX Launched First Satellites For Elon Musk's Starlink Internet Service
Elon Musk's SpaceX launched a Falcon 9 rocket carrying 60 satellites weighing 500 pounds each from Florida for his new internet service, Starlink. Musk expected Starlink to be a major boost to his revenue, which will expectedly see SpaceX topple USD 3 billion a year. The Falcon 9 rocket was launched from the Space Launch Complex 40 at the Cape Canaveral Air Force Station on Thursday.
The Falcon 9 was finally launched at around 2:30 GMT after two previous attempts were cancelled out due to high winds over Cape Canaveral and due to a "triple check" to assure everything is in the right place. 60 satellites with a weight of 500 pounds each made it the heaviest payload for any SpaceX rocket till date. The satellites will help provide internet only to the US, as Starlink is only authorized for operating in United States. Musk indicated that around 12 more launches of the same magnitude will be needed to attain a stable internet coverage across the globe. The satellites launched will orbit closer to the earth surface than the previously orbiting satellites giving a better connectivity. Musk is aiming to launch around 2000 satellites every year to end up with 12000 of them orbiting around the world.
Talking about advancement in the space sector, ISRO recently launched India's first electronic surveillance satellite, EMISAT, that will help the armed forces with information about the location of hostile radars situated around the borders. EMISAT carried 28 more satellites from international customers and all 29 of them were released within three hours of its launch. The payloads were to be released in three different orbits in space. This was the third of its kind test from ISRO, the first being ISRO's test on Automatic Identification System (AIT), and the second being the Advanced Retarding Potential Analyzer for Ionospheric Studies.