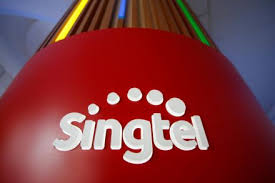 Singtel Profit Dips To 16 Year Low, Cites Competition
Singapore Telecom posted its latest net profits which is its lowest in last sixteen years, and its CEO stated that the shortfall was largely due to dip in earnings from India and Indonesia. Singapore telecom which is regarded as the largest telecom operator in Southeast Asia reported net profit of $565 million for the recent quarter ending in March it depicted almost flat earnings when compared to same period last year. Its net profit that does not include exceptional items fell by 15 % to nearly $ 697 Singapore Dollars.
Group CEO Chua Sock Koong told press that quarter wise trends were better than annual figures and fourth quarter figures depicted strong pickup and its topline revenue growth on currency terms were just about 6 %. They witnessed good growth from consumer engagements from Australia and Singapore She stated that the firm's digital business witnessed strong topline revenues buts its earnings were pulled down due to intense competition in Indonesia and Indian markets in past one year. But she continues to be optimistic about growth potential in other markets. She affirmed that Singtel will accelerate its digital efforts to improve its experience and enhance productivity while cutting down on cost structure by transforming work processes.
The company's net profit was $3.1 billion Singapore dollars for year ended in March which was way below $5.47 billion Singapore dollars that it earned last year. The last year's figure was higher largely due to profits from disinvestment of its broadband division NetLink NBN Trust. According to analysts its average full year profits depict the company's lowest profits since financial year of 2003. Its net profits for the year have fallen by 21 % to the level of $2.83 billion Singapore dollars. Experts believe that the group's consolidated revenue is likely to grow by single digit and its consolidated EPS before interest, tax and depreciation or EBITDA is likely to remain stable until March 2020.