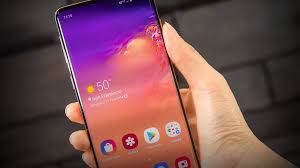 Latest Galaxy Smartphones have a major flaw…Samsung warns users
A flaw has been discovered in the very new addition of the high-tech fingerprint scanner among the latest edition of Galaxy smartphones. The scanner can be easily duped by fingerprint residue over the screen protector. Samsung has been warning their customers owning the new Galaxy Note 10 and Galaxy S10 to avoid the use screen protectors until the release of a new software update.
Multiple reports have cited that a Samsung phone owned by a woman in Britain could be easily unlocked by her husband when placing his thumb over the fingerprint scanner enclosed around cheap cover. Another similar incident was posted on Twitter with a video.
Samsung is tackling this incident by responding to a bug fix and urging their customers to refrain from the use of cheap silicone screen protectors.
In a statement released by Samsung, they have asked their customers to avoid using front screen covers so as to attain flawless fingerprint scanning until the release of an updated software patch. The company plans to release the new patch as early as next week.
The flaw is affected throughout all the models of the latest Samsung Note 10 and S10 smartphones which are able to scan the fingers over the screen. Corresponding to their website, the new models are equipped with ultrasonic finger readers which use sound waves in creating a 3D version of the person's fingerprint.
Samsung issued a warning that certain screen protectors could confuse the sensor to malfunction. The company however has designed their own special screen cover for their phone's ultrasonic sensor which comes at a price tag of $20 for replacement.
Troubling phone launches have always loomed over Samsung (SSNLF). The Galaxy Fold which was set to release has been delayed for several months due to complaints from reviewers that it breaks. Two years back saw Galaxy Note 7, being recalled after most customers complained about the battery catching fire leading the company to lose in billions.