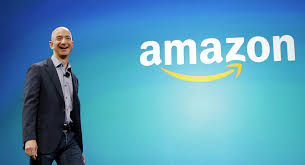 Former SpaceX Team Now Working For Amazon's Internet Project
Satellite-based internet is being increasingly popular these days with more than 5 companies in the race to start their own networks in order to provide internet access across the globe. The most significant group working on it is undoubtedly SpaceX by Elon Musk but the entrance of Jeff Bezos with Amazon into the market is surely going to fuel the competition. Things went a notch higher when it was revealed that Bezos hired Rajeev Badyal, who was the senior member of the management of SpaceX StarLink project after he was sacked by Musk and him along with a group of representative members are leading the research in Amazon now.
The project envisioned by Amazon is called the Project Kuiper and it intends to launch 3236 satellites in order to achieve its space internet target. It is being led by the former vice-president of satellites of SpaceX, Rajeev Badyal, with their project being called 'Starlink'. As a matter of fact, StarLink launched its two test satellites while Mr. Rajeev was still a part of it last year.
Their initial plan was to establish a constellation of 4425 satellites but they got an additional approval of 7518 satellites, taking their number up to a staggering 11,943. The first full mission by SpaceX is scheduled to be launched by May. Starlink is supposed to become fully operational once it deploys 800 satellites into the Earth's lower orbit.
Amazon seems to be lacking behind SpaceX by at least 2 to 3 years, judging by the fact that they haven't yet revealed their manufacturing plans and how the satellites will be regulated. The employment of Rajeev is a step towards hiring someone with expertise in this field, experts believe. Amazon has said that they would not want to comment on the history of any person they hire and they have been selected entirely on the basis of their credibility. SpaceX is yet to comment on it though it seems that they have progressed with their StarLink project even after the departure of Rajeev Badyal.