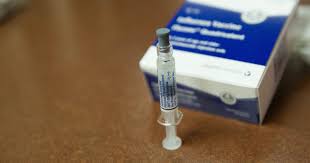 First death due to flu takes place in the New Mexico area
The first death of a child has now taken place in the area of New Mexico.
The department of health in that area has made a report this Thursday that a boy who was only 1 year old and belonged to the locality of Roosevelt County has passed away from the illnesses related to flu.
Since the beginning of the flu season in the month of October, the officials who are with the department have said that there have been 52 deaths which related to influenza and pneumonia.
The Heath Department has urged anyone who is over the age of 6 months for getting the flu vaccine done.
The seasonal flu does cover a lot of strains including the ones which are circulating currently and the experts say that it is not going to be late for getting vaccinated. They have said that the flu vaccine is the best way that people have or protecting themselves and their families from influenza and considering the fact that the season has not reached its peak yet, people must get themselves vaccinated in case they have not done so already.
 A few other precautions have been suggested by the authorities for being away from the disease or spreading the disease. They suggest that people must be washing their hands multiple times with soap for a minimum of 20 seconds. They should be covering their mouth as they sneeze or cough and using a tissue. They have been advised to stay indoors in case there are respiratory or fever related symptoms. The doctors must be consulted every now and then in case medical care is sought for any flu related symptoms.