When using the latest apps for finding a job, you have the ability to receive instant updates for your dream job in your area. Easily find your next stepping stone by using the StepStone Job App to search for local opportunities in specific career fields or industries. The application is easy to use and provides optimal search options with instant updates to keep you connected on the latest opportunities.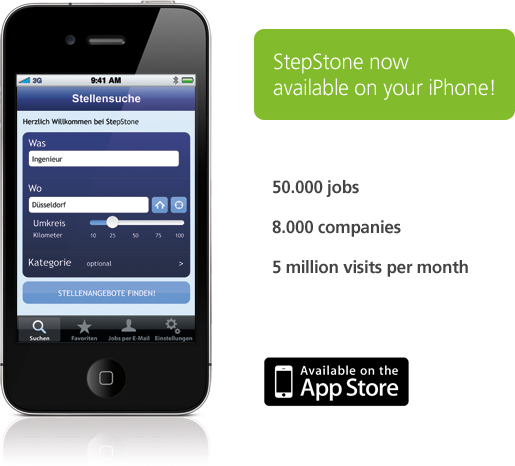 Instant Updates for Your Dream Job in Your Area
Find a job perfect for your skill set by downloading the StepStone Job App. No matter where you are located, StepStone can assist you with finding the perfect job opportunity. All industries are covered and the app makes it easy to search for employment whenever you like. Use the application on mobile or desktop to gain access to more than 50,000 first-class jobs, each sorted by city and region.
Searching Made Simple
With the android job app, your job search has never been easier. Whether you are an engineer, industrial buyer, or IT specialist, you will find that the application allows you to search via job title, category, industry or company, helping you to narrow down your choices for employment. Use the Job Alert feature to never miss an opportunity when it arises. The Job Alert feature can be personalized to alert you whenever a unique employment position is available. Take heed of the alert and apply for your dream job, hopefully to earn the position!
Keys to Success
With the StepStone app, you will find several features that are your keys to success. Templates are available to assist with creating a cover letter, while the itunes job app automatically stores your last searches so that you can go back whenever needed. Share job listings with friends across several mediums including Facebook and Twitter, to not only further your career opportunities but for those you know and love.