Microsoft is intending to allow the physically challenged individuals to control an on-screen keyboard and mouse. And for this, it has declared the "Eye Control" feature's beta version for Windows 10 that will enable users to operate much of the interface simply with eye movements. This new feature will be released in the Windows Insider Preview Build 16257 for a personal computer. Additionally, the Microsoft Console alias command prompt is also revamped with more colors for the first time by the company in more than 20 Years.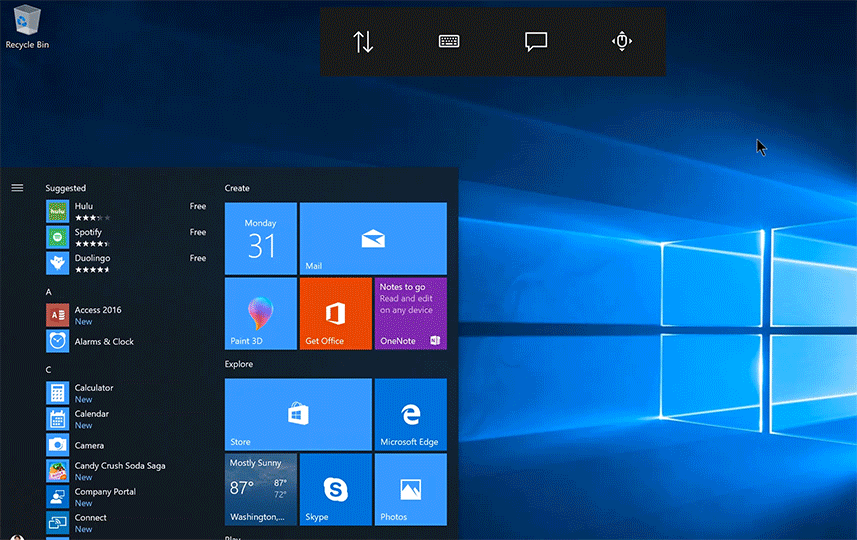 As per the blog post of Microsoft, the Eye Control feature will be requiring a compatible eye tracker, such as the Tobii Eye Tracker 4C. On switching on the Eye Control, a launchpad will appear that further reads the eye movements and provides access to keyboard, text-to-speech tool, and mouse. UI repositioning would also be possible to the opposite side of the screen by the users. Additionally, there is an Eye Control interaction model to interrelate with the Windows UI, in which eyeing at the UI will initiate it together with voice guidance. The new feature functions by supporting only the US English language keyboard with plans to include more keyboard outlines in future.
The mouse can be controlled by the users merely by choosing the mouse option from the launchpad and then place their eyes on the screen—where they wish the cursor to be positioned. The keyboard can be selected from the launchpad and the user can select the characters they wish to type. But the new tool poses difficulties in direct sunlight and, hence, the company mentioned the tool may need new calibration when shifting to a place with different light settings. Also, the Tobii UI is partially blocked by the launchpad during device calibration. This can be managed by switching off the Eye Control and then turning it on again after completing the calibration.
Talking about the revamped Microsoft Console, it has been now provided with new color scheme. Now support is extended to additional default colors on the command prompt by the same Windows 10 Insider Preview Build (v16257). This has given the users a vivid transformation to Windows Console's legacy blue to enhance its legibility. The Windows 10 testers, only on the installation of the build 16257, will be able to get new colors as the default Console scheme. Nonetheless, updating Windows to this new build will get new colors but without the new defaults.