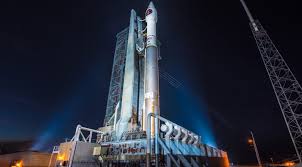 EELV Renamed As NSSL In Accordance With The Congress Mandate
The Director of SMC's Launch Enterprise Directorate Col. Bongiovi stated that it will leverage the strength of US commercial satellite launch industry. Based on Congress mandate the Air Force has also officially renamed the EELV program as National Security Space Launch program. The National Defense Authorization Act has directed that the change of name will be effective from March 1. The EELV program is now nearly 25 years old and it had been created long before reusable rockets came into being. The name change was suggested by Congress as this will represent a new era wherein both reusable and dispensable vehicles can be applied for the same purpose.
Defense Secy. will now pursue strategy that will include launch systems that are either full or partially reusable and Congress has also directed the DoD to continue working on a process that will evaluate and confirm usability of launch vehicles from components that have been used in the past. The EELV was launched in 1994 when Bill Clinton was president and he signed the National Space Transportation Policy. He gave responsibility for disposable launch vehicles to DoD and the EELV program was started by Air Force Space and Missile Systems for development of launch vehicles for both medium and heavy payloads.
The new NSSL program will focus on developing launch services that are agile and suited to warfighters. Col. Bongiovi praised EELV for its great legacy with 75 successful security launches that helped place national security satellites in orbit that together cost around $50 billion. The program will also try to leverage the nation's commercial satellite launch industry that has grown in the past decade. The draft proposals for EELV's Phase 2 Launch Service has already been issued by Air Force's Space and Missile Systems in which just two companies will be selected to provide it with launch services over a period of 5 years.