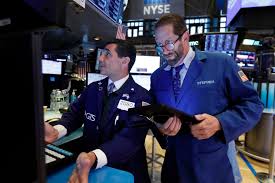 Dow Tumbles Over President Trump's Threat Of Mexico Tariffs
The US President, Donald Trump has threatened the biggest trading partner of America i.e. Mexico to escalate the tariffs. Calling himself, The Tariff Man, Trump has set the wave to the Wall Street and it has boosted the sense of fear in the traders of Mexico for slowing the rate of economic growth.
This has resulted in Dow Jones being tumbled down to 25,000 which is continuous low even after last four months. The current decline rate is stated as 355 points or by 1.4% and it is Dows' sixth straight losing week. The analysts have said this is the longest slump after the June of 2011 and also it is the lowest close for Dow Jones of this year.
As reported by analysts, goods worth $345 billion were imported by US from Mexico which included almost everything from beer to auto parts and televisions to avocado. Most of the major firms in the country have already found them in the cross hairs of the tensions in this trade war. Apart from Dow, Nashdaq and S&P also feel by 1.5% and 1.4%, respectively.
LPL Financial's Senior Market Strategist, Ryan Detrick has said this would be the latest worry for all the investors in the market and the biggest question in this situation is that if people are ready and capable to fight the two trade wars at same time.
On Thursday, Trump vowed to impose greater tariffs on Mexico but this will only result in exacerbated conditions for firms as well as investors. These trade tensions between America and its largest trader, Mexico will definitely give rise to slow growth of economy on global level because of disrupted businesses. However, professionals of Wall Street have already shown their concern over the trade battle between America and China yet another one is also blocking the future of the country.