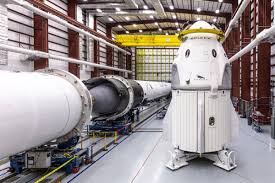 Crew Dragon Accident Investigation Continues—Report
It has already been 30 days since spacecraft Crew Dragon got destroyed during its propulsion system test. Investigators from both SpaceX and NASA have been trying to find out the cause of the accidents and predict the implications of future trials. NASA's manager of the commercial crew program, Kathy Lueders gave a presentation on May 28, 2019 before Human exploration and operations committee of NASA's Advisory council. She suggested certain ideas regarding the betterment of the investigation of the accident in Florida's Cape Canaveral Air Force Station on April 20.
During that accident, SpaceX had put to trial the big SuperDraco abort thrusters and Draco thrusters for preparing an in-flight abort test of the spacecraft which was then dated to take place towards the end of June. Lueders said there was a defect occurred while activating SuperDraco system.
However, details on the defect have not been revealed. She appreciated SpaceX for handling the accident and the investigation so well. In response she said that the team has indeed worked great. The team did not panic and followed the mishap plan step by step. They spread out all possible notifications. Their teamwork was commendable. She also said that NASA has always been updated about the investigation throughout. People from NASA who were present at control room of SpaceX were notified soon when the accident occurred.
In fact, a NASA team has been appointed to work along with SpaceX investigation team. They would be collecting information from the accident, but SpaceX would lead the investigation. The destroyed spacecraft is the one that was sent to International Space Station during Demo-1 trial flight back in March. SpaceX had thought of using the same spacecraft for their in-flight abort test during summer. The investigation is still on and therefore, date for in-flight abort test is yet to be declared.