Amazon Prime Video has thousands of subscribers voting in owing to its excellent quality and up-to-date features, trailers, movies, and so on. Recently, Amazon has agreed to enter into a deal with Salman Khan regarding his film rights. The worldwide streaming authority for all his future films right from the recent movie "Tubelight" can be viewed on Amazon Prime Video.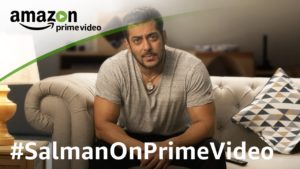 The online streaming service will be accessible to even the films produced by Salman Khan. The video streaming service is currently planning to spread its wings by encouraging actors to sign a deal and provide rights to broadcast their movies on Amazon Prime video. The rights for the films are really important or else there may rise a situation of entering the court to end the dispute. What's the catch here? After the movies are released in theaters, the actor's new movie will first be premiered on the streaming services that is prior to two months before the Satellite or Television broadcast it or the distribution in any form takes place.
The video streaming service will have even the older movies of Salman Khan including Kick, Hero, Bajrangi Bhaijaan, and Jai Ho been broadcasted. Salman Khan has disclosed in a statement that he is very happy to collaborate with Amazon Prime Video, which spreads across 200 countries and territories. The Indian cinema is surely going to benefit from the online streaming service in the long run. This new platform will help the fans explore the Indian cinema and attract a number of fans.
It is not that Salman Khan is the only superstar but according to his huge fan following and worldwide appeal he has been chosen. In the coming months, there will be other actors added to the list as well. This is the new step taken to change the concept of how the Indian customers enjoy the Salman movies on the Prime video before being broadcasted on the television. This will be the world's first star deal to have been ever signed. Amazon Prime Video is a platform that can help the Indians show their love and passion for movies on the worldwide stage to the global audiences.
The streaming services are currently emerging as a competitive market in India. Similarly, Netflix has signed a deal with Shah Rukh Khan for his film rights. The online streaming industry seems to excel in the next few years owing to the global audience craze and technological advancements.