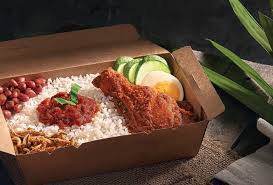 Air Asia Is Now Servicing Its Aeroplane Food In A Restaurant In Kuala Lumpur
Air Asia has opened its first restaurant in Kuala Lumpur marking the airline company's foray in the retail food business. In fact, Air Asia CEO Tony Fernandes is so confident that he wants to have a franchise model business that would expand globally. His ultimate dream is to open a restaurant in Times Square in New York City.
Air Asia is now one of the leaders of the Asian market in the aviation industry. It launched its first restaurant at a mall in Malaysian capital city under the flagship name Santan and T&CO. Catherine Goh who is the General Manager of the Santan T&CO restaurant says that as much as 30% of the restaurant's menu is based on the in-flight menu provided in Air Asia passenger flights. It includes classic dishes like Pak Nasser's Nasi Lemak dish which is a signature Malaysian dish made of rice.
The name of the restaurant Santan has been taken from the coconut pulp milk which is a very common staple in South Asian cuisine and is also used in Air Asia's in-flight menu. The current team of product development which includes 5 chefs and some culinary arts students took around 9 Months to make the menu for the restaurant.
According to sources Air Asia plans to open 5 retail outlets this year and 100 in the next three to five Years. Aireen Omar President of Air Asia's subsidiary company RedBeat Ventures said that the ideal way to bring up a retail global restaurant chain is to have a franchise model of business that would also bring the local talent into play.
Aireen also said that Air Asia's digital business which is an e-commerce mode of business has the potential to become the biggest industry larger than Air Asia's airline business. Air Asia has been on a diversification role since last year when the company sold its $1 billion leasing business.