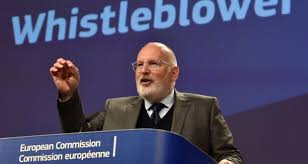 Whistleblowers Across The EU To Get Protection
According to the new law of the European Union, whistleblowers will be offered greater protection from the government. The law was formulated on April 16, 2019, during a parliament session as a step to prevent whistleblowers from making protests against the ruling authority. Now, whistleblowers can make the government aware of wrongdoings through safe media.
Whistleblowers have also granted authority to disclose the report publically if in case the government doesn't showcase any interest. After the formulation of the new law, whistleblowers can also make public announcements through radio and visual media. The law also protects whistleblowers from severe punishments viz. demotion as well as dismissal.
While speaking to the press, one of the government officials stated that whistleblowers play a crucial role in providing protection to society and breaches in European Unions' laws. Officials further said that in most of the cases, whistleblowers prefer not to make a public announcement as they fear retaliation or worse.
During a press conference, Frans Timmermans said that it is the duty of the government to protect the interests of whistleblowers. The Vice President of the European Commission further said that with the help of whistleblowers they can easily tackle cases like tax avoidance, corruption, conspiracies against the government, etc.
Previously, whistleblowers had leaked papers regarding biased tax arrangements, tax avoidance scams, money laundering, etc. Whistleblowers had also been a part of Cambridge Analytica where they have exposed a company dealing in data analysis. The British company was accessing personal information of users who are on a social networking site.
Beforehand, every member state of the EU has different laws regarding whistleblowers. Only ten members of the EU had laws in favor of whistleblowers. According to sources, it is mandatory for every member state to follow new rules which are formulated to protect the interests of whistleblowers. Member states who don't regard revised rules are subjected to strict judicial actions.