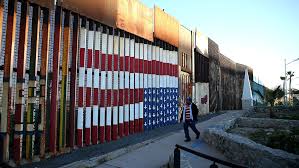 US, Mexican Businesses Unite Against Trump's Border, Tariff Threat
Business leaders from Mexico and US have raised their voice against the threats from President Trump to shut down the US and Mexico border, last Friday. They also put forward their suggestion of dropping the tariff plans on Steel that had disrupted trade deal ratification last year. In Merida, a meeting was conducted and was attended by business houses and government officials. The agenda was to ask President Trump to call off his disruptions of the trade barrier.
Tom Donohue, from the Chamber of Commerce stated in a news conference, that the relationship between US and Mexico is crucial and presently the top priority of the ministry. He proposed that presently Mexico and Canada should be exempted from the tariff plans that had been imposed on steel imports last June. This should be done before the replacement deal is imposed against the present Trade Agreements.
Donohue said it was imperative that the consequences of the action of closing down the border be stated well before the decision is made. After the statement the Mexican president too applauded this.
It is known that Mexico remains the second biggest in terms of the export market and the business volume that US has with Mexico is nearly half a trillion. Mexico has urged US to drop the tariffs on metals before USMCA, the Indo US-Mexico Agreement, is signed. He added that the constant state of tension in the border is delaying the process. The Mexican President, Salazar said that it was important that the US understands the importance of the border. He also joked that the migration issues should not be clubbed with trade issues since they are both completely different. The ministry has also requested that the talks to resume trade between US and Mexico should be done at the earliest. Obrador plans to revive Pemex, a state run oil organization by building a $8 billion refinery in Tabasco.