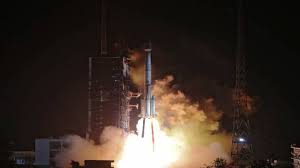 US GPS Has A Rival From China As It Adds Another Satellite
China has now a 20th satellite market in space. This will be used in the global navigation system for the country. China has a vast network of satellites and is expecting to be able to compete with United States, who has the largest number of satellites in the Global Positioning System (GPS).
The launch was done at midnight. The activity took place at the Xichang centre of Southwestern China. This satellite was the latest addition to the existing Beidou constellation. It entered the geosynchronous satellite orbit. Beidou is supposed to have 27 satellites in the medium orbit of earth, 5 satellites in the geostationary orbit. The whole activity is expected to be completed by 2020. This was the first satellite out of 3 which have been planned for the orbit. By end of this year China expects to complete the launch of 7-9 satellites. The Beidou navigation system is in place since 1994. The system has both military and civil applications. The prime intention of developing this system is to challenge the dominant position which USA has in the GPS market.
Beidou started offering primary GPS service in last year December. The countries which were offered this service mainly included the ones in the Asia Pacific region. The nations which fall on the route of Belt & Road Initiative can also use this service. The Belt & Road Initiative is Beijing's strategic plan to expand grace and infrastructure in Africa, Europe, Asia and in other parts of the world.
China is promoting its GPS services by offering additional benefits and incentives if the countries are signing up for the service. According to a white paper review on Beidou, the services were primarily made to serve the Belt & Road nations. Currently, all the bus, trucks and fishing boats in the country have been asked to install BDS.