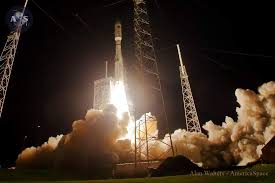 ULA Will Roll Out Vulcan Centaur Early Next Month, Delta, Atlas Rolled Back
United Launch Alliance has announced that first prototype of Vulcan Centaur rocket's first state will be rolled out of its factory in September and moved from parking lot to its test facility which is run by Dynetics – a subcontractor. This structural booster will simulate weights that will be more than those which is expected within the flight. These test results that will be carried out into next year will help to validate design integrity and mark step forward for ULA as it prepares to make a booster for powering Vulcan into its first flight which is scheduled for 2021.
The Vulcan is a new type of SLV that ULA is making at its factor that was opened by Boeing in 1998 to manufacture Delta rockets. When ULA was created in 2006 as a collaborative effort between Boeing and Lockheed Martin venture, while Atlas line moved over to Decatur following which for several years production of legacy vehicles will be reduced and most resources will be moved to Vulcan. The facility where the rocket is being built is 1.6 million sq. ft. large where 850 workers slog day and night to design and setup the main and upper stage boosters along with propellant tanks.
Around 28 stages of the rockets are in varied stages of production in preparation for one Delta 4 Heavy mission and also seven Atlas 5 missions. In preparation for Vulcan production manufacturing tool upgrades and robotic assembly lines are also being introduced. ULA is funding these technological improvements with funds that were awarded last year by USAF under Launch Service Agreement contract. According to Mark Peller ULA's VP of major development around five of major components of the Vulcan that are in various stages of development will be completed within 12 months. Both upper stage tests of Vulcan will be carried out at NASA's Huntsville based Marshall Space Flight Center during early 2020.