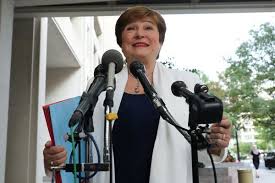 Trade War is Main Cause for Global Slowdown, States IMF
Protectionist policy by the U.S. president raises a global alarm, say economists at the International Monetary Fund held recently in Washington D.C.
Economists around the world are concerned about the global slowdown caused by the trade war. The trade war has been going on for more than a year between the U.S. and China.
At the IMF meeting that took place recently, important heads from various countries came together at Washington.
Mervyn King who is the former governor of the Bank of England states that the two factors disturbing global economic growth are the tariffs imposed by the U.S. on China and the disengagement by the U.S. on the world stage. He says that there is a great stagnation spreading across the globe.
The IMF has made a forecast stating that global growth has come down by 3 percent on a year-on-year basis. When compared to April data, the drop has been at 0.3 percent.
Gita Gopinath, the Chief Economist at IMF, states that the slowdown is the cause of protectionism inflicted by the trade tariffs of both the U.S. and China on each other. Another reason stated by Gopinath is the increase in geopolitical issues. She states that there is a synchronized slowdown in many countries hurting global trade.
Brexit worries are hurting investment in the United Kingdom. Growth is said to have come down from 1.4 percent in 2018, to 1.2 percent, this year.
China is expected to slow from 6.6 percent down to 6.1 percent this year. Trade war is the chief cause, say experts. This is affecting global growth, states the IMF.
Policy missteps cannot be taken at this juncture, says the IMF. This is especially true in countries like Iran, Turkey, and Argentina.
Gopinath states that the trade war has to be addressed soon. Interest rate cuts from central banks are not sufficient to address this issue, she states.