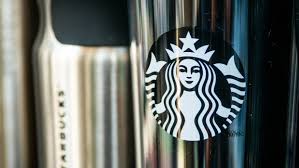 Starbucks' Share Tumble With The Forecast Of A Lower Growth
Last Week, the coffee giant Starbucks released its forecast for the earnings of the year 2020 and it has turned out to be much weaker than what was projected.
The company shares saw a drop of more than 3% in the premarket trading after the news of the lower than expected forecast started to reach investors. The stocks of the coffee chain are valued at $116 billion and have been up by 50% up till now till the close of Tuesday's markets.
Starbucks has said that the company is expecting its fiscal earnings per share for the year 2020 to be below the current model of growth which presently is at 10 %
This outlook of the company was released through a slideshow by presentation given by Pat Grismer at the Global Retailing Conference held by Goldman Sachs'
The CFO Grismer has said that the one-time tax benefits which were realized in the 2019 fiscal will be majorly impacting the growth in the fiscal earnings in the next year. He further went on to say that the company had decided that it will be purchasing close to $2 billion worth of shares in the 2019 fiscal rather than the fiscal 2020.
Grismer though also sounded positive and full of optimism when he said that the company was still firing on all cylinders from the perspective of the operating performance and had the focus and discipline which were necessary to drive growth that a company of the stature of Starbucks should be able to achieve. He even said that they wanted to reinforce that their agenda is to deliver against the expectations that had been set. He further added that a double digit EPS in the long term growth model continues to be their aim.