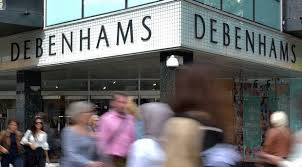 Sports Direct Equates Debenhams Takeover Deal To National Scam
Troubled store chain Debenhams recently said no to last offer for takeover by Sports Direct and its owner Ashley who owns stock in the group. After the last offer was rejected the group announced that its stores will stay open for the time-being though within a year some of them will be closed. Owner of Sports Direct has requested for reversal of administration process and said that it both regulators and politicians involved in the process were ineffective. The store chain is one of UK's largest and has 166 stores employing 25000 people and its lenders comprise of hedge funds from US and also banks from UK and US.
Sports Direct had expressed its desire to formally buy Debenhams from its owners but its Deputy CFO Chris Wootton stated that maybe the proposal was not accepted as lenders of the chain had already decided on a plan of action and if they were making a deal with a third party they did not want to share the details with others. He said that Sports Direct is therefore considering on starting legal action against board of Debenhams for causing losses to shareholders.
With the new process of administration that has been accepted by Debenhams board it can now sell itself or any of its assets that will not affect the operations of its businesses. After business control is taken over by lenders they will sell it in pieces which will completely wipe up the investment made by shareholders. Debenhams list of lenders include large banks like Bank of Ireland and Barclays along with mutual funds like Golden Tree and Silver Point. Chairman of Debenhams Terry Duddy announced that they will stay focused on protection of their stores and jobs. Analysts say that the group's refusal to accept Mike Ashley's proposal was due to his insistence on becoming its CEO.