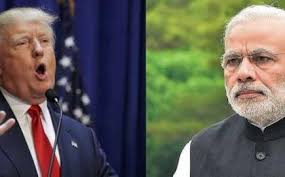 Special Trade Status Given To India By US Amidst Tariff War Comes To An End
According to sources America is all set to close preferred trade status which it had offered to India. In a recent press event, President Donald Trump stated that he will end the preferred trade status of India and US in upcoming week.
Previously, India had cashed great benefits as US has allowed several goods to enter the country without imposing any tariff. While speaking to the press, Mr. Donald Trump said that from June 5, 2019, all of the preferred trade status of India will end. Back on May 31, 2019, president Trump said that he had taken an appropriate step by terminating India's status as a beneficiary country.
One of the Indian economists had stated that the country will not suffer huge economical impact due to the step taken by the American government. The present step been taken by the American government when India is dealing with all time high unemployment rate and low growth.
Due to preferred trade agreement between the US and India; the former allows the later to introduce goods worth $5.6 billion without any duty. The American president had taken present step so that the country can justify its trading relationship with other global economies. Under similar scheme, back in May, president Trump had ended the preferred trade status of Turkey.
The Trump administration has also levied tariffs on the import of aluminum as well as steel, from different parts of the world. Back in 2018, India had increased import duty as a retaliatory step in relation to hike in tariff imposed by the American government.
At present, America and China are dealing with a trade war. The trade war had caused a great deal of loss to both the countries. Moreover, in a recent press event President Donald Trump has threatened Mexican government that he might increase the tariff rate over the issue of illegal migration.