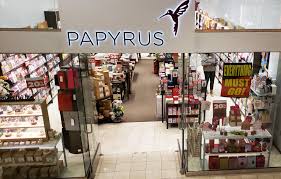 Schurman Fine Papers File For Bankruptcy, To Close All Papyrus Stores
Papyrus, one of United States' most popular stationary seller, will be shutting down all of its stores in the country after parent brand, Schurman Fine Papers, filed for bankruptcy. The Tennessee-based company have planned to sell their inventory and shut down all of their 254 locations in the United States and Canada, according to the bankruptcy filings.  The company, home to 1,100 employees in the United States, said it will be shutting down all the stores by end of February.
The company will be shutting down all the 254 stores, 178 in the US and 76 in Canada, it operates under the brand names of Papyrus, Carlton Card, Paper Destiny, and American Greetings. Users visiting the Papyrus website witnessed a sale of 20 to 40 per cent, with a greeting text that reads "All Sales Final". The company has stated the decline in retail market as the primary reason behind the bankruptcy filing. They also listed out their financial struggles due to the high product and capital costs it had to pay in order to renovate the old stores it had acquired back in 2009. The first Papyrus store opened back in 1973 in Berkeley, California, and has since become one of the most popular stationary seller with a number of stores.
Papyrus is one of the many beloved retail chains to have filed for bankruptcy since the shift towards online shopping. Recently, Fairway Market, one of New York's most popular grocery chains, filed for chapter 11 bankruptcy protection after announcing bankruptcy four years ago. Amazon purchasing Whole Foods for USD 13 billion has all but shaken up the grocery industry in the United States. Fairway had been running as good as ever in Manhattan despite the failure in other parts.