Paytm is one of the commonly used online payment e-commerce this year. After the phase of demonetization, the digital mobile wallet was one of the highly used commodities. Owing to the increasing utilization of the app, Paytm is always on the lookout for modifying its app. Recently, the digital wallet has decided on rebranding its "Postcard" feature as Lifafa. And Lifafa in Hindi means an envelope.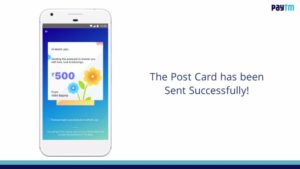 This decision has been taken as a result of the dispute with the Indian Post. The Indian Post had sent out a warning to the digital mobile wallet telling them to discontinue using the term postcard. Paytm had launched Paytm Postcard during the occasion of Raksha Bandhan so as to make it easier for the people to send a digital version of money as gifts. The Department of Posts has declared that the Indian Post has the whole right to use the term postcard as per the Indian Post Office Act and Rules.
Though the company had renamed its unique feature Paytm Lifafa, it has gained a lot of attention within a short period. The use of the native Hindi word will help build a strong emotional bond and social significance in the various generations to come. The payments offerings such as sending money at a quicker pace will help to improve the money transaction platform.
In addition to this, Paytm had introduced the latest feature, that is, the users having an Android device can send money to the contacts present in their phone using the smartphone's phone book. For utilizing this new feature, all that the user has to do is to open the phone book and choose the contact they wish to send the money to. Once the contact is selected, the Send Money option has to be selected for proceeding the money transaction. Once proceeded, the amount wanted has to be sent and the Proceed to Pay option has to be selected. All the Android users and Paytm app users can send the money to anybody without any extra fee to be paid.
Paytm is also planning to unveil its very own messaging app similar to that of Facebook's WhatsApp. The company along with the help Of Alibaba and SoftBank are trying to magnetize more people in using the messaging service going to be incorporated into the app. Paytm is currently ranking second on the list of top Internet-based start-ups in India.