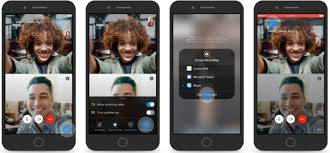 Microsoft Confirms Video Sharing Option On Skype For iOS And Android Users
After testing the feature with its testing community back in April, Microsoft is all set to launch a feature that enables users to share their screens while being on a video call on Skype. In a blog post by the company, it was stated that users can now use the feature for their on-the-go meetings to help guide relatives or friends who are unaware of using their device to its full potential.
Skype is not the first in the business to come up with these feature. Companies like Zoom, Cisco WebEx, and GoToMeeting have already catered their users with the feature to share their screens. However, all of them were enterprise based video calling service apps.
The feature is yet to debut on consumer based video calling apps as none of WhatsApp, Messenger, Google Duo, or FaceTime has given it a thought yet. While Google Duo has upped its game with an 8-member video calling feature, the other service providers haven't done anything beyond conventional. Skype is the first consumer video call service app, if it is considered so, to come up with this feature. It is for sure going to help smartphone users across the globe. The new feature will be accessible from the menu button present at the bottom of Skype's all-new video calling interface.
Talking of Skype's new list of video call features, it has brought the screen recording feature along with the live captioning option to facilitate users further. The move was made in order to help people who can't hear take advantage of the video calling feature. The announcement came after PowerPoint too was announced to display live captioning during presentation. The subtitles will auto scroll and users will be able to turn it on by default. Users can turn it off as well even if it set to any default value.