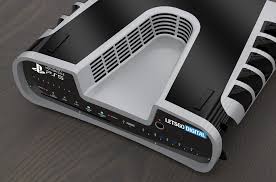 Leaks speculate the design of PS5 from Sony
With the release date of PlayStaion5 from Sony coming closer, there have been more leaks which reveal about the gaming machine.
The earlier prototypes have been leaked online and they suggest that they are going to match a patent of design which had been registered in the August of 2019 in Brazil.
The console has a top which is V-shaped and appears as if it is a reference to the Roman numeral five. The design has managed to look both traditional and futuristic and reminds of a gaming console straight out of a science fiction film in the 1980s. It is not as minimal and slim as the Xbox One or PS4 and it is bulky calling back the older tech.
In case the final product is going to look the way in which its prototype is looking it is going to be a big departure form the previous designs of the PlayStations. Sony has not given its comments on this leak.
The director of research and analysis division has said that they can expect the design at the launch to be different in a major way during the launch. There is a possibility of some of a few of the design cues transitioning over.
In the all the other aspects of this new console, Sony has been keeping things to be same. On this Monday, at the CES show in Las Vegas. The CEO and president Jim Ryan made a revelation that the logo of PlayStation 5 is going to bear a resemblance to the previous logos of the console. The decision of calling this PS5 and not Play Station 5 is something that was unusual for this gaming console.