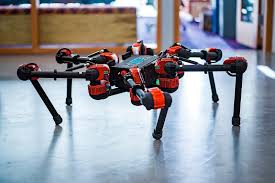 Facebook Research Is Designing Touchy-Feely Inquisitive Robots
As a social media service with worldwide reach, Facebook leans widely on its ML and AI systems to keep harmful content off it and the website online (at least, most of the time). After its declaration at the beginning of the month related to computer vision, self-supervised learning, and natural language processing, Facebook this week shared info about 3 extra regions of research that can ultimately result in more curious and capable AI.
"Much of our operation in robotics is aimed on self-supervised learning, in which systems learn squarely from raw info so they can get used to new circumstances and new tasks," a group of scientists from Facebook AI Research (FAIR) claimed to the media in an interview. "In robotics, we are improving methods such as model-based RL (reinforcement learning) to allow robots to train themselves via trial & error with the help of direct input from sensors."
Particularly, the group has been attempting to get a 6-legged robot to train itself to walk without any assistance from outside. "Speaking generally, locomotion is a very hard job in robotics and this is what it makes it very thrilling from our standpoint," claimed a FAIR researcher, Roberto Calandra, to the media in an interview.
On a related note, Facebook is just as keen as its peers in developing ethical AI. The firm has associated with the Technical University of Munich to support the making of a self-governing AI ethics research hub.
The simply named Institute for Ethics in Artificial Intelligence will use the academic resources of the university to look into issues that the sector cannot answer alone, involving those in areas such as privacy, transparency, fairness, and safety. The firm is providing an initial award of $7.5 Million over the period of 5 Years, and claims that it may also share its personal findings and tools.