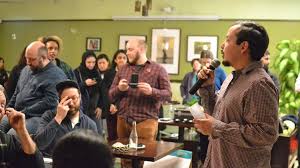 Community Group Say Opposition Over Amazon HQ2 Still Prevail
Various community groups in New York are opposed the Amazon's plan to set up a head-quarter in New York City on Friday. They also criticized the officials and elected officials who are requesting Amazon to think again on its reversal plan for establishing headquarter in New York City. An advertisement of a full-page was published in New York Times by Business owners and officials, requesting Jeff Bezos (Amazon Founder) to think about the headquarter in the city again, to which local communities delivered a statement. Governor of the city Andrew Cuomo while speaking to a press meet on Thursday, confirmed that he is trying to make Amazon built the headquarter and has had 'many talks' regarding the same, Governor is hopeful that Amazon will think about it.
Report published in a Newspaper on Thursday stated Governor is trying every possible way, including making personal calls to Bezos to make this establishment happen and is behind the Amazon from last two weeks. Group of the working class and immigrant communities along with 70 organizations said through Medium (blogging site) on Friday, that Governor's steps do not reflect our desires. Amazon had to leave before and will leave again because the opposition is the same, added the groups. Corbin Trent (Communications Director, Rep. Alexandria Ocasio-Cortez, D-N.Y.) has criticized the elected officials. Tent said on NBC News, Friday that if officials would have talked to the communities, even the half times they talk with Bezos, this conflict might have been settled through an agreement. Make The Road New York (Advocacy Group) has also advocated the communities and was blasted on Governor's actions.
The letter posted in newspapers stated that Governor will get personally involved in this. Mayor Bill De Blasio will take care of community development. Both of these officials didn't make any comment, however, a spokesman from Mayor's end said that he was aware of the advertised letter. Amazon said on February 14, 2019, they have backed his decision on developing an HQ in Long Island City, and blamed states officials behind their backed decision. Virginia activists have also started opposing Amazon new HQ in Arlington. Many activists had issues behind states $3 billion incentive offering to the company, people who were supporting Amazon's HQ said it will give nearly 25000 jobs to people.