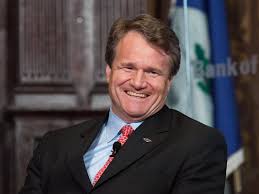 Bank Of America Shows Responsible Growth For First Quarter Of 2019
Bank of America posts good results but shares slip on Tuesday.
The first-quarter profits have increased beating estimates. Profits have increased to 7.3 billion, an increase of 6 percent at 70 cents per share, though the estimated value was at 66 cents per share.
Executives had announced that the net interest income had decreased due to lower interest rates and the slowdown in the U.S. economy.
Though share prices saw a slide by 2.6 percent in the morning, prices recovered by mid-day with a 0.22 percent decrease.
While speaking at the conference call, Chief Financial Officer Paul Donofrio had said that there were near-term headwinds. Some were seasonal while some were recurring. He said that the bank was facing a slowdown on its net interest income.
The economy is slowing and interest rates have been lowered, said Donofrio. The NII for the whole of 2019 will not be as brisk as in 2018, he says.
Income from interest is the prime source of money to banks. The Federal Reserve has shown signs that there will no hike in interest rates for the year. This has led to a decline in bank stocks.
With the economic slowdown, industrial investors are in a bit of struggle and their profit margins are also slowing.
Bank of America has beaten estimates by showing an increase from 66 cents estimated profits to 70 cents per share. Revenue remains unchanged from last year at $23 billion.
Brian Moynihan the CEO of Bank of America says that the bank was able to show profits for the quarter, due to some strategic planning like bringing down expenses. Expenses have come down by 4 percent, which is a decrease of $13.2 percent. We have shown responsible growth despite the unfavorable environment, he says.
For the year, the bank's shares have gone up by 20 percent which is said to be an outperformance amongst its peers.