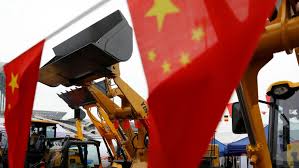 Asian Exports To China Decline In January With Trade Tariff Impact
The global supply chain is affected by the trade tariff war between China and the U.S. This has resulted in a slowdown in exports from Asia to China.
Japan has seen its exports to China decreasing by 17.4 percent which is 958.1 billion yen. This is the second consecutive month that exports have declined to China.
In December the drop was 7 percent and the decline is accelerating with each month. Overall exports have fallen by 14 percent in January when compared with the previous quarter, says Nomura Securities.
Many products are finding a slowdown on their exports. Chipmaking equipment has fallen by 25 percent while electronics circuits have slumped by 39 percent. Meanwhile, metals and chemical products have fallen by 10 percent, though they fared well in 2018.
Exports from South Korea to China, for the month of January, have followed a similar pattern. Exports have gone down by 19 percent for the year. However, the fall in the last two months is higher. Semiconductors which comprise a fifth of its exports have witnessed a steep fall in its exports.
Singapore exports have fallen by 25 percent, especially in integrated circuits and computer components.
Vietnam saw its exports decline to China by 7.3 percent in December with IT components most affected.
Taiwan witnessed a fall by 7.5 percent in January exports. The exports to China which is 40 percent of its total sales saw a fall for the third consecutive month. However, exports to the U.S. have increased by 21.2 percent in January.
Thailand saw a slump in its exports in December by 7.3 percent, with heavy decline witnessed in IT components.
However, Vietnam is the only country that has seen its first increase in January.
However, analysts say that the Lunar New Year holiday has fallen earlier and may be the cause for the slowdown for the month of January.