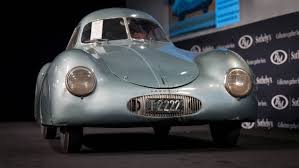 Porsche Falls Short Of Minimum Price Amidst Auction Debacle
A glitch in the screen showing the price of Porsche made the crowd erupt as the price that was shown on the screen was wrong and the auctioneer who people thought had said $70 million indeed stopped the bid by saying its $17 million and not $70 million.
The crowd which cheered on the fact that Porsche was selling at the record breaking price then booed and were shouting at the error which is unusual for a crowd which is often boisterous and cheerful after the day of events and parties.
$17 million was also below the minimum price which is required by the seller and hence there were no further bids post $17 million leading to the pulling of the lot.
RM Sotheby's had said in a statement briefly that the car didn't manage to meet reserves and that every effort will be made to sell the car post-sale.
Some of the attendees in the audience have said that because the auctioneer was Dutch his pronunciation of 17 million sounded more like 70 million that caused the confusion among the audience and screen operator alike.
Irrespective of the reason, this debacle turned out to be embarrassing and a costly mistake for RM Sotheby's as they had expected to auction off cars worth nearly $200 million over the weekend
This has also marked an appropriate climax to a week where sales have fallen below expectations which can be a sign of further trouble ahead in the market of classic cars. The sales across 6 auctions was expected to be in excess of $380 million however it turned out to be just $245 million which is a decline of 34 % from the previous year.