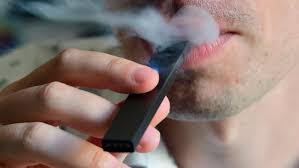 E-Cigarette Giant Juul Under The Scanner For Its Marketing Practices
E-cigarette company Juul has come under scrutiny by the FDA for its safety claims that remain unproven. Some of its marketing practices have also been criticized.
The Food and Drug Administration questions Juul on its marketing strategy. Reports that the company has been making presentations to school children have come under the scanner.
Dr. Ned Sharpless, the acting FDA Commissioner states that e-cigarettes come under the tobacco category. Companies should demonstrate that their product is less harmful or less risky along with scientific evidence before marketing them. He states that Juul had gone against the law and made false statements while addressing the nation's youth.
The agency has sent a warning letter to Juul, stating that its promotional activities are not correct. It is persuading potential customers which include the youth, to use its products. It is using discount coupons to attract and influence underage teens through its advertisements on social media channels to attract new customers, says the letter from the FDA.
In a particular incident, a Juul representative had made a presentation in one of the schools. The teens were allegedly given a mixed message stating that the e-cigarettes from Juul were "totally safe". He had shown a Juul device and had shown the students how the product worked.
The FDA has been troubled by Juul's promotional activities. The company had said to students that its products were 99 percent safer than the regular cigarettes. Many other unsubstantiated claims have also been made which is being investigated.
A Juul spokesperson has said that the FDA's letter is being reviewed. The company says that it will fully cooperate with the FDA.
There has been a surge in the number of diseases that are linked with vaping that is affecting youngsters. The FDA and the CDC, Centre for Disease Control is investigating into this issue, especially as lung diseases have surged through vaping.